How to use push to talk on Google Meet
14 Mar 2022 - Corey Pollock
Working from home or from a remote location can sometimes mean you're somewhere that has a lot of background noise. The noise in the background can often trigger your microphone on Google Meet, causing an annoyance to the people you're chatting with.
A common solution to this is what's called push-to-talk. What push-to-talk does is automatically mutes your microphone until a trigger or hotkey is pressed. When the hotkey is pressed the microphone is unmuted while the hotkey is held. When the hotkey is released the microphone re-mutes itself and you are safe again from noise.
How to enable push to talk on Google Meet
A commong question we get asked is how to use push to talk on Google Meet. Unfortunutely Google Meet does not currently have push-to-talk functionality natively built into it's platform. However, there are chrome extensions for Google Meet, like Meet Enhancement Suite, which will allow you to add this feature to your Meets.
Read on below and we'll show you how to add push to talk to Google Meet by using the Meet Enhancement Suite Chrome Extension for Google Meet
Google Meet Push To Talk
In Meet Enhancement Suite the push-to-talk feature is one of the most popular features we ever built.
The first step, after you've installed Meet Enhancement Suite from the Chrome Web Store, is to toggle on the push-to-talk feature from the extension itself:

Once you have the feature turned on you can start a Google Meet or join one that already exists to test out the feature. Once you've joined the Meet simply press the space bar to toggle on push to talk. You'll see that when you press the space bar once it will toggle your microphone. If you press and hold the spacebar it will keep your microphone unmuted until you release the spacebar.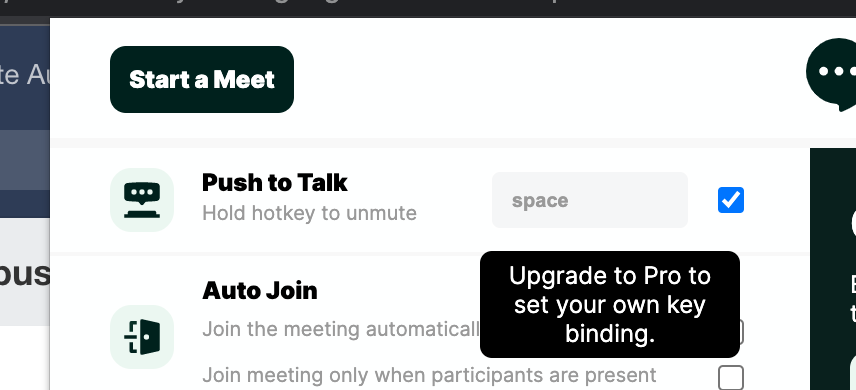 If you'd like to further customize your Google Meet experience, by upgrading to Meet Pro you can set your own custom hotkey for push to talk. Setting your own custom hotkey allow you more control over your Meets, as this hotkey can be set to any custom key combination you choose.
Push To Talk Google Meet
There you have it – you are now an Google Meetpush-to-talk pro. If you have any questions or feedback about this feature we'd love to hear from you! Simply email us at hello@meetenhancementsuite.com
With Meet Pro, you'll get push to talk custom hotkeys along with 25+ other amazing features that make Google Meet a little more like Zoom. Get it today for 10% off!
Get 10% off Meet Pro today

→
---
Back to the blog

→

</section>